With the release of Absinthe 2.0 for iOS 5.1.1, we witnessed the untethered jailbreak release as well only minutes following the release. This article is aimed at letting you jailbreak your iPad 3, 2, or 1 that have the 5.1.1 version of iOS through Absinthe for both Mac and Windows users.




Important About iPad Jailbreak




For untethered Jailbreak of your iPad 3, 2, or 1, you need to first make sure it's iOS is 5.1.1 otherwise this procedure would not work on your iDevice. Also, backup all the data you have on your iPad especially the media files.




It is of vital importance that you install 5.1.1 if there is a need BEFORE Apple closes the signing window on 5.1.1. Otherwise, 5.1.1 will not get installed on your iPad 3, 2, 1 even if the SHSH Blobs are there.




Ingredients To Jailbreak iPad iOS 5.1.1 UnTethered



Take a look at the important data you have on your iPad before initiating the process because Absinthe will make a backup and restore of this data to achieve a successful jailbreak. In effect jailbreak uses a part in Backup and Restore process. Knowing this, you might have some reservations…
iTunes Backup – iCloud BackUp software can be used to Backup all the data in your device.
Steps to Jailbreak iPad 3, iPad 2, iPad 1 iOS 5.1.1 UnTethered With Absinthe 2.0
Step 1: Unzip the download file, extract the files and open the Absinthe file on your PC.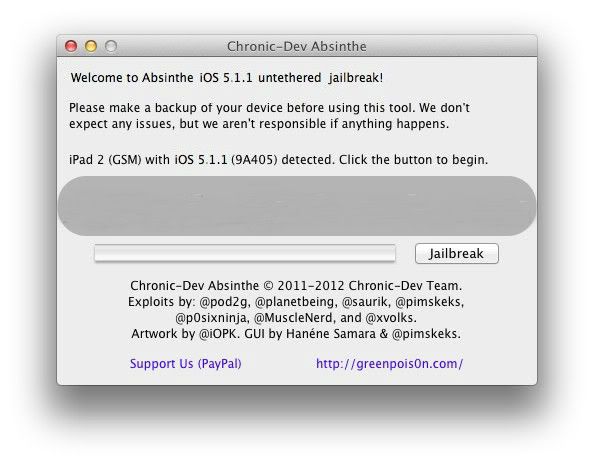 Step 2: Connect your iPad to your PC and wait till it gets detected. Once it gets detected, hit the "Jailbreak" option.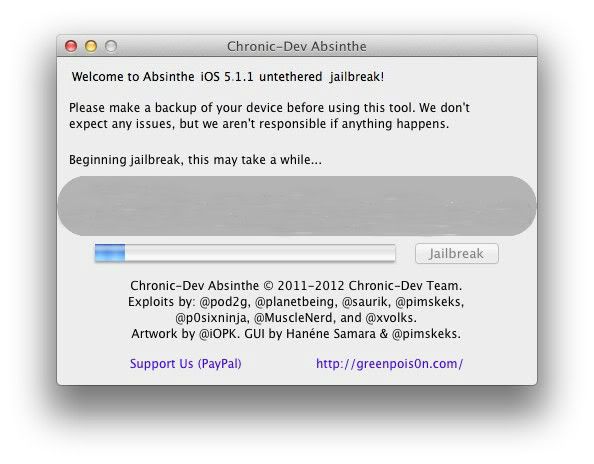 Jailbreak will be initiated by Absinthe as soon as you hit the jailbreak option. Note that the time taken for untethered jailbreak completion depends on the amount of data you already had on your iPad so it might take longer than you had expected.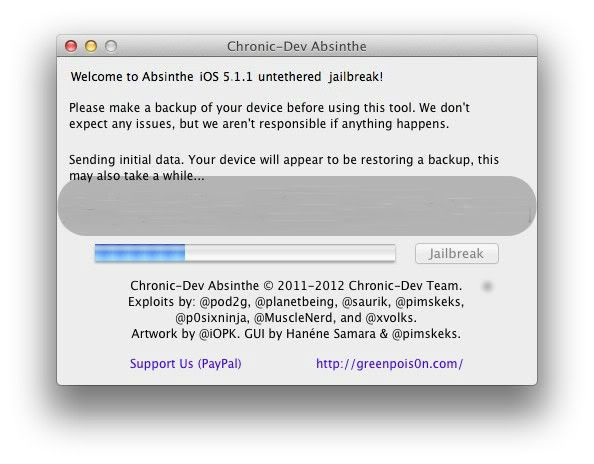 The geeks out there in Dream Team bent on jailbreaking every device possible have pwned iTunes sync, backup and restore process for successful jailbreak.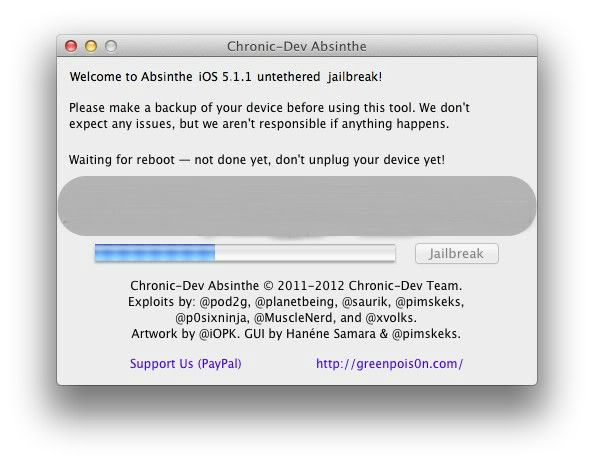 Just stay put and let it complete on its own!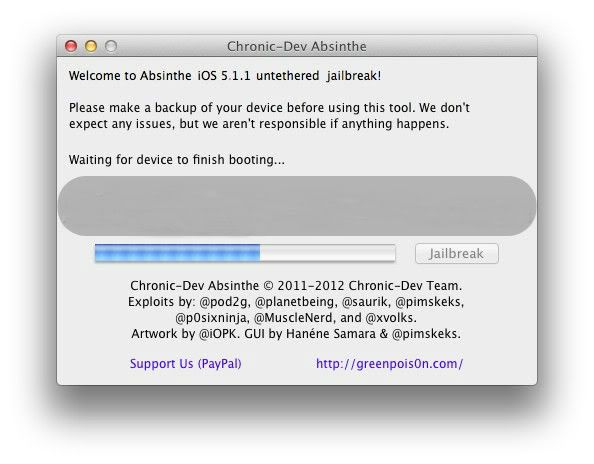 Jailbreak almost done…
When finally at the last stage, you might feel like it is never going to end. But just as you survived the first stage, you will survive this one too. Be patient!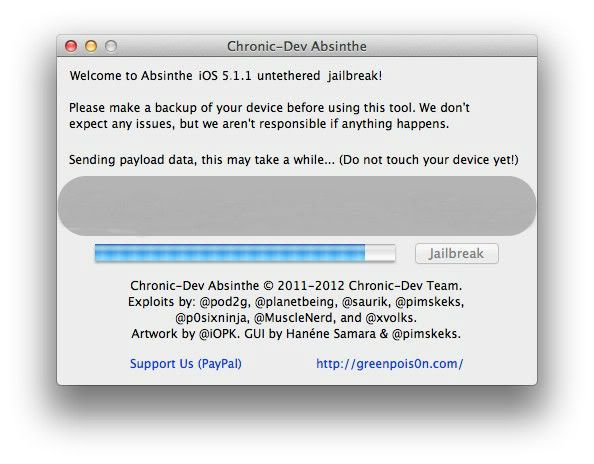 When at last the process comes to an end, you will be notified when asked to unlock your iPad device and hit the jailbreak icon. DO NOT disconnect the iPad at this point.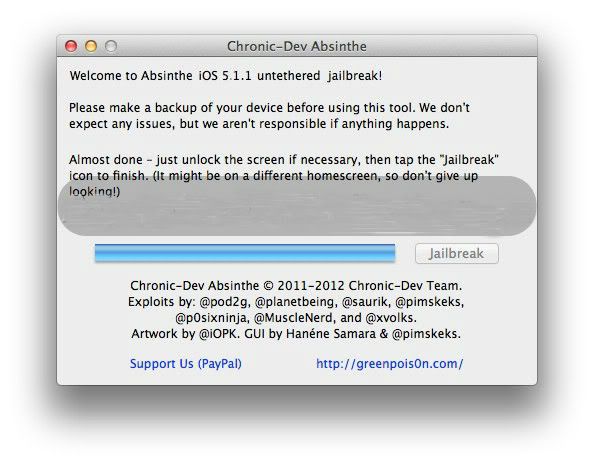 You will be told at the completion when the notification appears "Almost done".
You should see a Cydia icon shown on your screen.
And you are done. Your iPad 5.1.1 is jailbroken untethered.
Troubleshooting Absinthe 2.0.4!
If you are encountering trouble with proper running of Absinthe, your server might be down giving the message "Error establishing a database connection". For this, switch VPN on by going to Settings from springboard.
After you receive another configuration error, your device should reboot within minutes to show Cydia icon on the Springboard as it boots back.
You might get annoyed if the jailbreak process is too long and this might raise questions in your mind whether the process is really working. Before you think along the lines of disconnecting your iPad from PC, know that the process will take a long time if you have a lot of data on your iPad. Stay away from disconnecting unless something has genuinely gone wrong.
In case the process reaches the final stage and "Absinthe" still does nothing, you need to switch the VPN setting ON from Settings to let the device reboot and make Cydia visible. Be careful not to disconnect iPad 2 at this point.
If the above step isn't successful in dealing with the issue, just disconnect your device and start it again. When Absinthe recovers the process, let it. Once it is finished, disconnect your iPad one more time and launch the jailbreak once again. For an iPad with a lot of data, do a restore first as mentioned at the start of this article.
In case Absinthe stops working on OSX, firstly you need to ensure to launch the jailbreak process as an Administrator. Some users have fixed the issue by activating root user on OSX. You can enable root user following the steps given:
Go to "System Preferences" and click "Users & Groups" from the options.
Select the padlock and proceed to unlock settings.
Next, you need to select "Login Options".
Hit "Join"/"Edit" (Whichever option is available).
Go to "Open Directory Utility".
Hit padlock and unlock settings if and when required.
When you go to Edit" menu, select "Enable Root User"
Give a password assigned to the root user.
For Windows, if Absinthe stops working then again you need to ensure to run as an Administrator.
Both Windows 7 and Vista users need to configure compatibility properties for Absinthe executable file. Right-click on the exe file and select "Properties". Click the compatibility tab and choose "Windows XP (Service Pack 2)". Finally, click "Run this program as an administrator".
Properties for Windows 7 users are depicted in the image: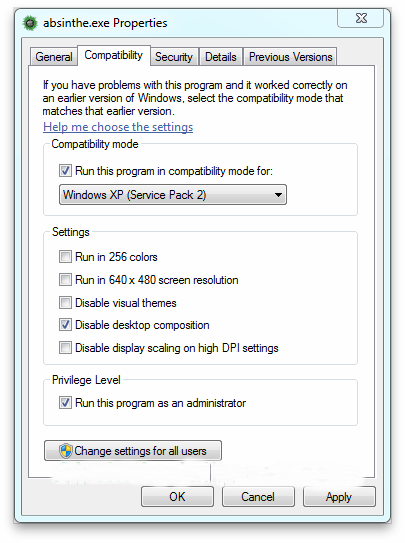 I hope this tutorial will be helpful for you, for queries and suggestions please comment on this article.